with Yvonne Silver:

403.999.4749

Ladies!  I'm curious...

- Is your business thriving?

- Does it "nourish" your soul?

- Is it "socially conscious"?

- Do you have "engaged" staff?

If you are a courageous entrepreneur committed to high growth, I'm glad you found me!  I teach women to rediscover their inner CONFIDENCE, use more powerful language, and FLOURISH!  

    Flourish = to grow luxuriantly, thrive

    -  in one's prime; at the height of

       fame, excellence, influence. 

Happily sharing experiences drawn from 8 start-ups & high growth firms (up to $12M).  Passionate about life, expressive, resilient, innovative & confident Coach, who loves Social Enterprise work - living on purpose, creating positive ripples... 

Are you ready to Flourish?

​Born an innovative and passionate optimist, I believe in  living a mission-inspired,  purposeful life.

My fortune is teaching women  entrepreneurs & business owners to SCALE-UP, be ready for growth, without loosing their soul in the process.  How? With CONFIDENT CONVERSATIONS, you can engage and empower others - negotiate bigger sales, and empower your team with Conscious Authentic Leadership. 

   - PROFIT, PURPOSE, IMPACT -

Yvonne E.L. Silver - Flourish!

Growth Catalyst for Women

Executive Coach, Speaker, Mentor

CEC, CHRP/CPHR, RP, EI Consultant

Mentorship Chair, Reiki Practitioner

T: 403.999.4749

E: yvonne@we-flourish.org

                                                                (Coaching Team)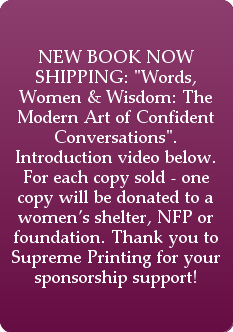 What if... 

You could live more confidently - what massive ripple could you create?

Growth Catalyst: Speaker, Coach, Mentor, Writer, Business owner, Mother, Wife & Disruptor!

Member: BPW Calgary & Canada Online Club