with Yvonne Silver:

403.999.4749

Yvonne E.L. Silver - Flourish!

Growth Catalyst for Women

​Executive Coach, Speaker, Mentor

CEC, CHRP/CPHR, RP, EI Consultant

Mentorship Chair, Author, Reiki

​T: 403.999.4749

E: yvonne@we-flourish.org

​Born an enterprising, forward-thinking and original "Avant-Garde" female, I believe in  living a mission-inspired,  purposeful life.

I teach women  entrepreneurs, business owners and leaders to expand, to "scale-up" and be ready for growth, without loosing their soul in the process.  

How? By having more CONFIDENT CONVERSATIONS, you can engage and empower others - negotiate bigger sales, and empower your team with Conscious Authentic Leadership. 

I believe where

POSSIBILITY, PURPOSE & CONSCIOUSNESS meet, we Flourish!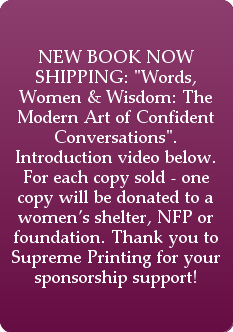 What if... 

You could live more confidently - what massive ripple could you create?

Growth Catalyst: Speaker, Coach, Mentor, 

Writer, Business owner, Mother, Wife & Disruptor!

Mentorship Chair:

 BPW Calgary, Member:Canada Online Club



Now shipping, ORDER your copy TODAY!

For each copy purchased, 1 will be donated

 to a women's shelter, foundation or not-for-profit. (Publishing October 2018)

Thank You Sam at Supreme Printing in Calgary, for supporting printing costs.